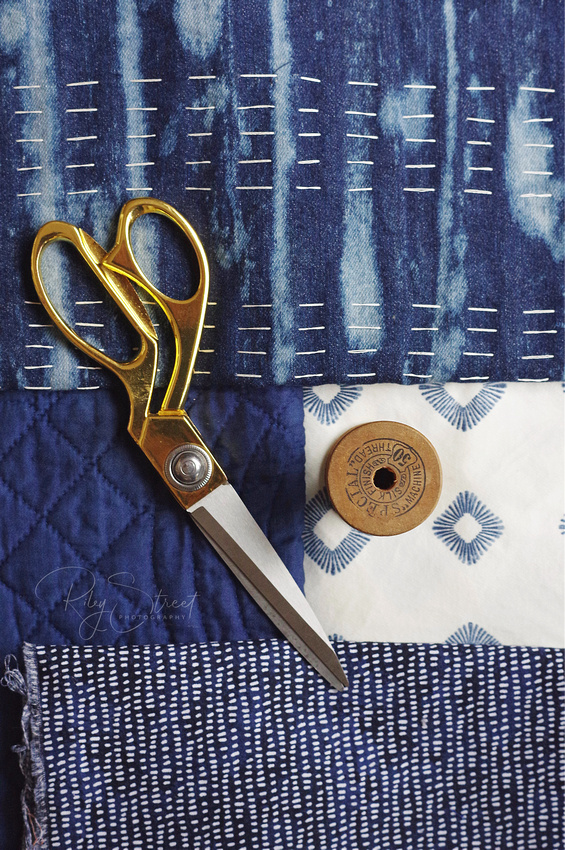 At the tail end of 2020, my walking buddy and dear friend Tracy suggested we summon up some challenges and projects to keep our minds creative during the slower days and colder days of winter, and after much thought, the "ReFabrication Challenge" was born. Now this is a great one because it really isn't a firm thing nor is it something that we think HAS to be done - it's just a whenever, whatever and whoever type thing which keeps it fun and avoids the pitfalls of something concrete and rigid.
Some of you reading this, may know Tracy already - a local designer and seamstress in Dayton with a wonderful, long career in her field and her talent and skill for what she does is just amazing. As a friend, she always encourages me to follow a path of creativity and to not give up when I feel discouraged. Our long walks each week are always filled with much discussion, motivation and by the end of these walks, we feel we can conquer the world. Solve all problems and do anything! If you don't know of Tracy, please do track her down on social media under Tracy's Sewing Studio where you'll find loads of great videos, blog posts, links on where to purchase her amazing work and so much more! If you'd like to read her blog post about this challenge (which I highly recommend), please hit the link at the end of this post and read on!
Anyway, back to the challenge. We decided that our first challenge was going to be fairly simple - we'd walk to a local thrift store, each select five items from various areas and then take a month to create whatever we pleased with those five items each. We had to get an item from the women's section, an item from the mens section, something from accessories, something from linens.....and to make it all the more fun, a baggie of random crap (which many thrift stores have) - I'd say we would both agree that the random crap was the hardest part but the most enjoyable. Finding a baggie of random crap filled with items to source something that would be incorporated into the designs isn't as easy a task as you'd imagine.
So with our selected loot, we then went on our merry way and had plenty of time to get this challenge started. Now bear in mind, I am not a seamstress and have very limited skills on a sewing machine so it was going to be fun to see what we each selected and each created - two very different levels of skill, two very different styles and perspectives. And I'll not lie, I was moderately terrified since I can barely sew a straight line but the point of this exercise was to have fun and be creative and so I just let myself do exactly that. And since I know what my limitations are and what I am capable of doing, I went into the thrift store with a rough idea of what I wanted to try, if I could find the right supplies.
My choice was a classic denim jacket and thankfully I found one that would work for my purposes. Now I have a bit of a fondness for the old denim jackets despite not being one to wear them nowadays - as much as I'd like to, they aren't really part of my style....which in itself has taken a swan dive over the past 10 months since I pretty much live in sweatpants and tee shirts. Pandemic fashion courtesy of online shopping - practical, comfortable and uglier than sin. All this is another story for another time so back to denim jackets! Which my first clear memory of them is from a distant land, long long ago when my interest in fashion really started to form....yes, the teenage years! Those years when we start thinking a little more about what we like and what is fun as opposed to what is sensible and practical. And since I lived in a rural area with NO clothing shops in the town we lived in (the nearest stores being about an hour away), my exposure to fashion was limited to what I saw on TV, what I'd see in magazines and occasionally what I'd see when we did venture out to the bigger towns.
And I have a strong memory of the late 80s being a time when denim jackets were the THING and oh boy I wanted one bad. Especially one with a distressed wash. Now there were a few small problems with this - I wasn't exactly living near a mall, I didn't have a load of funds and it wasn't like the area I lived in was full of people who had access to denim jackets either. Yet by some small miracle, one of my school mates just so happened to have one that she wanted to sell and after much pleading my need to my parents, a deal was struck where I'd pay half and they'd pay half. And here's a nugget that may shock you - items like a brand name denim jacket in Australia back in the 80s were NOT CHEAP. Even in the later end of the 1990s, denim jeans in retail stores usually sold for about $80 on average and that was the cheaper brands. So jackets were obviously just as expensive, if not more so.
So I popped the $50.00 for that second hand denim jacket and for a brief and shining moment, I was just as cool as my peers. And I think that may have been the only time in my life that I ever owned one. Anyway, that's a rather random fact about my history with denim jackets and one that I hope you enjoyed.
Now back to the ReFabrication challenge. So I got a jacket, then found a fun tee shirt in the mens section, grabbed a scarf with pompoms on it from accessories and after a moment of consideration, nabbed a denim kitchen apron from the linens section. And then onto the random bags of crap which honestly, we had fun sifting through! As I snuck a few bags into my cart which had other treasures of want, I found one that had an assortment of interchangeable watch bands which could be worked into the final piece.
My first step for this design was to cut the graphic print from the mens tee and place it on the rear of the jacket in a way that I liked, then I hand stitched the piece onto the jacket with some yellow thread which I felt complimented the graphic print and added a top stitch style to the look. Step two was to transform the kitchen apron by randomly stamping bleach onto it using a small block of wood and also swiping across the fabric with a small paint brush dipped in bleach. Washed that and then cut out the pieces I wanted to use for the front of the jacket, employing the same top stitch style with the yellow thread. Fun fact, I have a stash of vintage threads of assorted styles which are way older than I am so it was nice to be able to use these. I also did some rivets of that area of fabric on the front which I felt was in keeping with a classic denim jacket.
Now for the tricky part.....the scarf. Originally I'd planned on using the pompoms to incorporate into the piece but as I played around some, I realized that it was starting to veer dangerously into the realm of tacky and arts and crafts. Not to mention, if I'd placed them where I'd thought, well, who wants balls stuck into their back? Imagine - sitting down wearing this jacket and leaning into the back of a chair and feeling golf ball size pompoms pressing into your spine? Yeah I think not. So I scrapped that idea and opted to use the fabric of the scarf to line the middle part of the inside of the jacket which would add some extra warmth. Again, hand stitched since I knew if I even considered trying on a sewing machine, it would be a fail of epic proportions.
Then for the final part - the random bag of crap! Since I knew that most of the watch bands were going to clash dreadfully with the overall design I was going with, I opted to only use the one.....which was gold....and much to my delight, had little movable charms in the shape of letters which spelled out "BALL" and those who know me, know I drop that word a lot, especially at Christmas. So for that part, I trimmed the band a little, arranged the letters just so and then riveted it onto the back of the jacket. And lo and behold, all was done and complete. What a fun time I had doing all of this and it was interesting to note that while I stubbornly ignored my sewing machine, the quiet act of sitting and hand stitching was a really relaxing task for me to do. Slow stitching I believe they call it.....and trust me, I AM slow. Mind you, back in the day of high school textiles, I believe they called it "tacking"? Regardless, it was still more than I'd done in a while by hand and there was something very meditative about the process.
So that's it for now - the first challenge of hopefully many, and Tracy and I do hope to inspire others to join us when time permits so we can spark a heap of creativity all over!! Please do check out link below to read Tracy's blog about her journey with this challenge!
https://www.tracyssewingstudio.com/2021/01/10/introducing-the-refabrication-challenge/?fbclid=IwAR0Baxlx-ZHdNIeShhwMznc7tdqGcP2fEeeEY3H4GXjxWI8yRtMTNCGzBPs

Thanks for reading and until next time, stay warm, stay well and keep on creating!
Sam.